Around the end of the 4th period of class, all 35 eyes would be on the girl sitting near the door who held a medium-sized metal gong and mallet. The moment she would get up from her seat to sound the 'recess' gong, books would be immediately shut, tiffins brought out in a jiffy, and hungry students would wolf down the contents of their lunch-boxes while devouring friends' tiffins at the same time.
I always pitied the subject that was taught in the 3rd period because I don't think anyone of us really paid attention to it what with our stomachs growling while being tempted by the seductive smells from the nearby school canteen. The periods after lunch were somehow more interesting since our tummies would be satiated with delicious food.
Each of us has gone throw this phase, and there are millions of children in today's times who attend school without eating a morsel the entire day! How then are they to pay attention to lessons that will pave their way for a good future while their stomachs roar in hungry anticipation of some food?
Food is nutrition. It nourishes the body and helps in the proper functioning of it. When we quiet our hunger by consuming a meal, we feel much more relaxed and receptive of the surroundings. The same goes for the hungry children. They require a satisfying meal in order to not just conquer their hunger for food but also to master the classroom hunger for knowledge and education.
These two elements are intrinsically tied and go hand-in-hand. So, how can WE eliminate classroom hunger?
There are a few things that can be done (some may seem idealistic but if you put your heart to it, it can be done):
1. Organize food drives on a fortnightly/monthly basis and donate the supplies to the hungry children at school or to NGO's like Akshaya Patra who will deliver it to the schools
2. Have a Cooking Club that prepares food for children in the area
3. If you have a child, suggest to the school to involve its students and their parents in giving food items - rice, dal, jam, grains, pulses, biscuits etc. and reaching it to the children
4. Lend your financial support through donations
5. Lend your skill, expertise in maintaining the quality and supply of meals for the children at their school
These are the few thoughts that came to my mind through which we can help feed a child.
Did you know that around a quarter of the world's hungry live in India itself? That is an alarming figure that should drive us to see the reality before us. It is not enough to just 'know' all this, we have to 'do' in order to keep our nation's children fed, healthy and educated.
In your own small way, even like this, through blogging about this theme, you can feed a child. For more information about this, please visit:
BlogAdda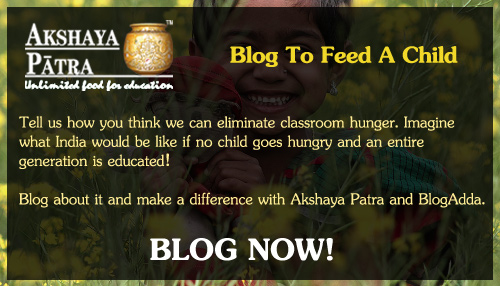 I am going to #BlogToFeedAChild with
Akshaya Patra
and
BlogAdda
.
---
It's Children's Day today! Watch the BlogAdda Team share a special message...
Happy Children's Day to all the children and to all the adults who still have a child in them!
Cheers,
Venice